Paycom Pay®
Eliminate the tedious job of check reconciliation after every payroll with Paycom Pay
Peace of mind with payroll reconciliation software
For employees not using direct deposit, you can eliminate check reconciliation with Paycom Pay. This service issues employee paychecks that clear off our bank account, not yours. We simply draft your account for your entire net payroll, taxes and fees. This payroll reconciliation software is yet another benefit of our single-software approach to meet all your human capital management needs.
By issuing checks on our account, you no longer have to go through the tedious, risky process of reconciling paper checks after each payroll cycle. This also saves you from spending time hunting down lost or stolen checks.
Because paychecks are not drawn on your organization's account, your business is protected against fraud. Another benefit is a reduction in bank charges.
Balancing bank statements is a breeze when employee paychecks aren't part of that routine. If any checks go uncashed after 180 days of their issue date, we'll automatically refund them and notify you.
In one transaction per payroll, we'll draft your net payroll, taxes and fees from your account, rather than in multiple steps. That reduces the number of entries within your general ledger.
Paycom Pay works well with
Empower employees to verify, troubleshoot and approve their own payroll for a more accurate and efficient process.
Reduce your burden and engage your workforce by directly connecting employees to their HR data.
Ease the stress of payroll tax responsibilities for your organization, including conversion and balancing.
Explore these resources for greater payroll insight
FREQUENTLY ASKED QUESTIONS
Explore the ins and outs of Paycom Pay
Our software automatically prorates payroll amounts as long as clients allow for it in their settings.
Paycom takes every measure to ensure our software is in compliance and data output is within appropriate parameters. Each client is responsible for verifying the quality of their data entered. To help provide a more robust experience, our software has processes in place to identify potential sources of human error.
Yes, Paycom offers clients the ability to pay contractors as a Form 1099 employee. Paying contractors in this way prevents taxes from being withheld when payroll is processed.
Yes. It's easy for employees to use our self-service app to update their info via desktop or mobile.
For all your payroll needs in a single software, request a meeting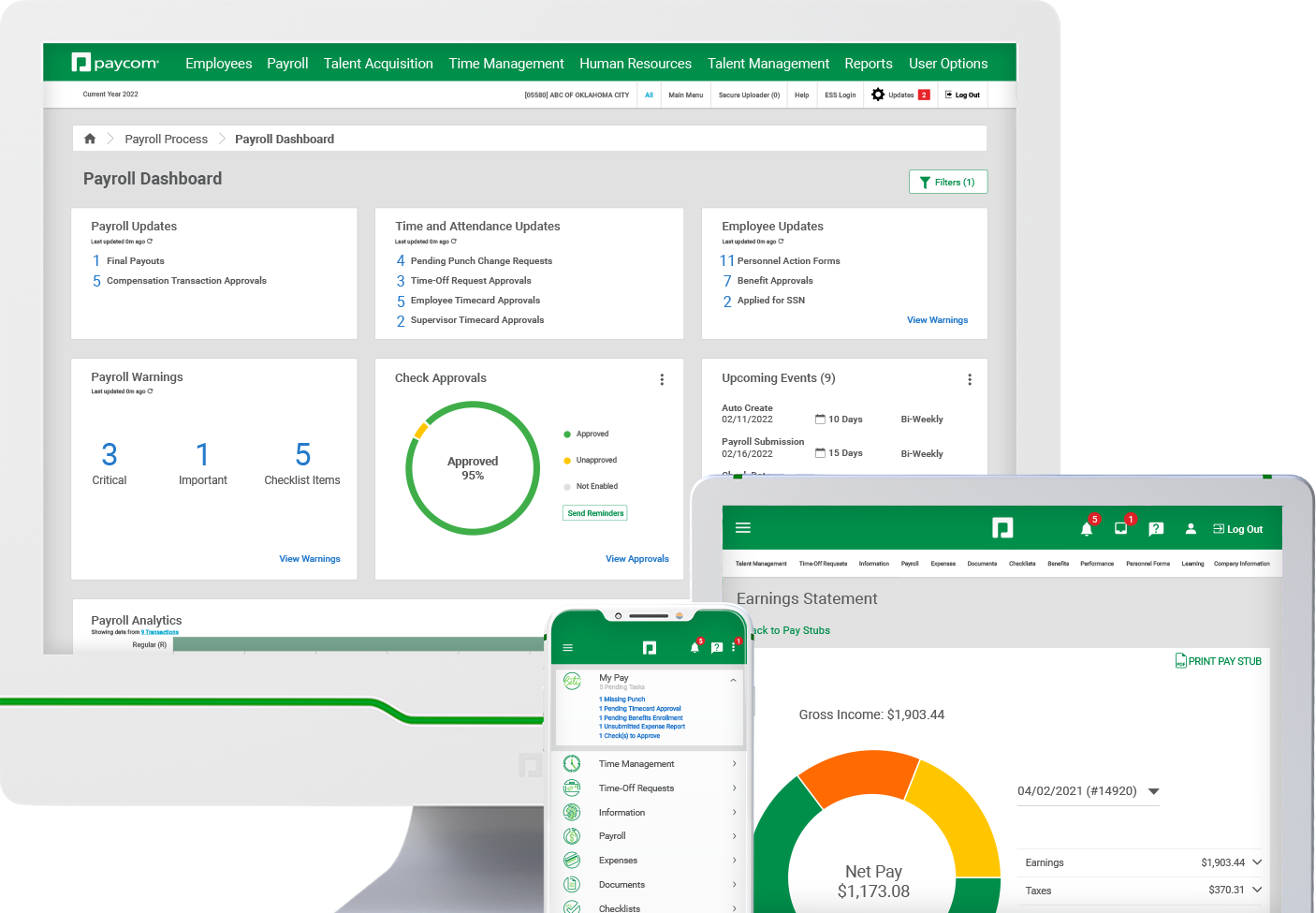 For all your payroll needs in a single software, request a meeting.